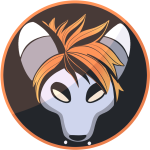 Nehku
Salutations and welcome.
Nehku (Artist moniker of Jackary Spears) is a freelance character design artist based mostly around character artwork for MMO players such as World of Warcraft and Final Fantasy XIV.
This site is a work in progress.Commission Status: OPEN.
Payment:
Currently, I accept PayPal only, this may change in the future.Payment Process:
I will require an email to send you an invoice. Once you have fully paid the invoice, I will start drawing. The invoice is there for both of our protection, as you are purchasing goods and want to keep track of your money and I want to keep track of who has paid.Turnaround Time:
Once I start on your piece, it's done between 1-3 weeks. If it is taking longer, I will always inform you.__What I will draw:__
Furries
Fantasy creatures
NSFW
Mecha
Armour
Humanoids
Pokémon
Just ask, honestly.__What I will NOT draw:__
Controversial topics
Politics
Racism
Sexism
Anti-BLM and Anti-LGBTQIA+
Extreme kinks
NFTs
Zoophilia
If it makes me uncomfortable, I have the right to say no.
Extra fees may occur based on the complexity of your character(s) and/or extra items such as weaponry, pets/companions, etc.
This will be discussed beforehand.How my process works and what is needed from you:I can be reached on Discord at Nehku#4025, please send me a message, we'll discuss what you want, get payment set up and make sure everyone is good to go. I keep a list that updates constantly on Trello to let you know the status of my commissions. https://trello.com/b/nsPiniJC/nehkus-queueReferences, faceclaims, other commissions and colour samples
are our best friends to assure you get exactly what you want. If this is the first time you've had a character drawn, there may be an extra charge for assisting in the designing process, especially if the character is complex.The Sketch
I will do a loose sketch of what you've asked. At this stage, I can change anything, so please feel free to tell me. We can change the details as much as you need until you are happy. You get 3 free pose changes, after that there is an additional $5 each charge.Inking
Once you are satisfied, I will ink the drawing if it is inking, flat colour, or full illustration. There is no changing this step as all details should have been fixed in the sketch part of the process. If you are purchasing lineart with the intent to colour it yourself and you want the actual .csd file, there is an additional $10 fee which gives you access to editing the drawing instead of just black lines.Base Colour
If getting a base colour or full illustration, I will lay the base colours for you and let you look it over. We can change the colours as many times as you need until you are satisfied. After the base colours are approved I will only add/change items in the drawing for an additional charge.Full Illustration
Once the base colours are down, you may get a WIP of the full illustration if you request it but usually, you will not see it again until all of the detail has been fully implemented.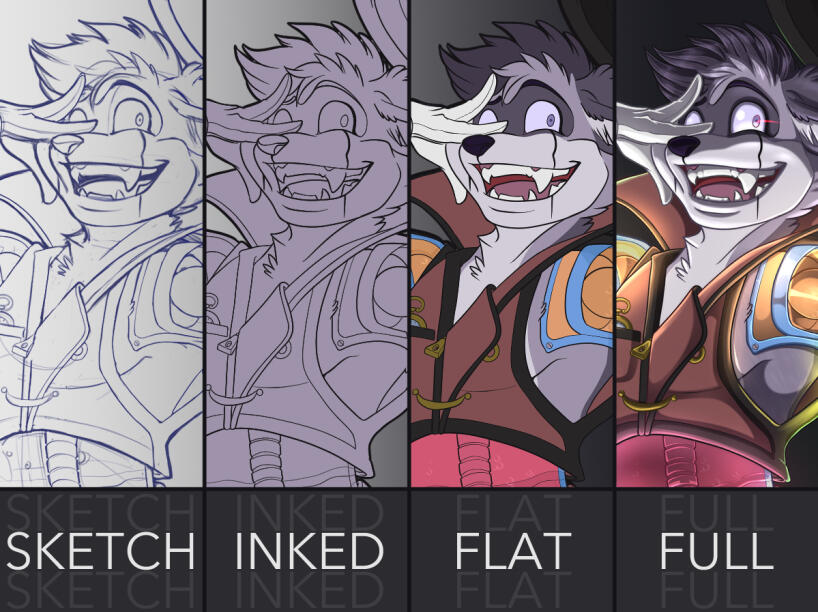 | Drawing | Sketch | Inked | Flat Colour | Full Colour |
| --- | --- | --- | --- | --- |
| Headshot | $45 | $60 | $75 | $100 |
| Bust | $60 | $80 | $100 | $150 |
| Half Body | $80 | $100 | $150 | $175 |
| Full Body | $90 | $125 | $200 | $275 |
| 2nd += | 3/4 | of | price | above |
| Background Starts At | $0 Transparent | $15 Pattern Shadow | $50 Flat Detail | $75 Fully Illustrated |
Terms of ServiceRights And Social Media► NO NFTS. AT ALL. EVER. If one of my art pieces is found as an NFT, I will be contacting the WCMA for legal action. If you have been found to be the one that registered it as an NFT, it will revoke your ownership rights stated below AND I will be blacklisting you from hiring me for any future projects.► Unless you specifically want your commission posted at a later date (a gift or surprise for example)
I hold the right to post my art on my own social media and will tag you if applicable.► I stream my art process on Twitch and in my Art Studio Discord. If you do not want your commission streamed publically, please tell me and I will respect your wishes.► I retain the right to use it as advertising, such as on this website, as a portfolio, or as examples.►Once the art is done, you are allowed to use it how you please for noncommercial use and you will receive two versions. The public watermarked version of 'Commissioned by (your preferred online moniker)' and a full-sized unwatermarked version. Art is being stolen constantly, especially for NFTs, and thus I encourage you to distribute the watermarked version so that there is no doubt about who it belongs to in case of theft. This is for your property protection.► All preparation materials, visuals, and sketches, including all electronic files used to create the project remain the property of Jackary Spears (Nehku). I retain the right to use any rejected sketches or WIPs for future projects.Refunds► There are no refunds. Please be very sure of what you want.► If a client is being particularly difficult and a respectful medium cannot be reached, I do retain the right to refund and refuse my services in the future.Communication► You will be given several WIPs along the way and I do not mind if you ask me for updates. I try to be as transparent as I can be with my clients, please do not hesitate to reach out to me.► Demanding daily updates, unless you've paid for a rush order, is not going to get you anywhere. Art is a process and I am not a machine, if I am taking a break on yours, it is because I want to give you the best work I can.► By commissioning me, you are legally stating that you are agreeing to and are aware of the Terms of Service listed above.► I am willing to change and add items all the way up until the base colour is approved. Once the image is finalized colouring stage or done, there will be a charge for each additional item and alteration.AI Training/AI Colouring► You do not have permission to use my artwork to train or further any AI technology.► Please do not purchase sketches from me with the intent to colour them via AI/diffusions or use them to guide an AI piece. If I find out you're doing this, I will blacklist you from purchasing again.
KouponsGeneral Information► My regular ToS applies to all of this, please make sure that you and the receiver of your gift are aware of them.► Once purchased, your gift receiver will reach out to me in which I will then be working one on one with them. My discord is automatically on the gift image, but they can also reach out to me through Twitter. If you wish to remain involved, please tell me and I will be happy to send you WIPs and follow-ups of the progress.►These will be put in my queue and have no special 'jump ahead' place, they will be done in the order in which the gift receiver contacts me.► There are no refunds. Please be very sure of what you want!► They are cheaper because they are gifts to someone else, you cannot buy one and gift it to yourself.

How It Works!► Each gift image ('Koupon') is equipped with a unique tracking number up top to assure no one can steal and use the Koupon. When you purchase, I will be asking for the name of the gift receiver to assure records match.► The title can be changed to whichever celebration you would prefer. Birthdays, Valentines, Anniversaries, Friendiversaries, etc! The background colour can also be changed.► If you want to remain a Secret Santa or Anonymous in your gift-giving, I will be happy to deliver the Koupon for you and put 'anonymous'.► I am currently only offering Headshots and Busts for these. This may change in the future. These are at a small discount because they are being gifted to someone else.► I will be sending you an invoice via PayPal for what you want. You don't have to tell me the characters or designs, just that you want to purchase x amount of characters and in what style (sketch, ink, etc.) Your gift receiver will provide their references and wants.► You cannot purchase these with intent for yourself, your characters, etc. These are meant to be a gift to others, which means your OCs exempt from being qualified for being part of the Koupon you gifted. If you purchased a pair, keep in mind it needs to be for someone else and they cannot choose you as their second.
| Drawing | Sketch | Inked | Flat Colour | Full Colour |
| --- | --- | --- | --- | --- |
| Headshot | $40 | $50 | $70 | $80 |
| Bust | $55 | $70 | $90 | $125 |
| 2nd += | 3/4 | of | price | above |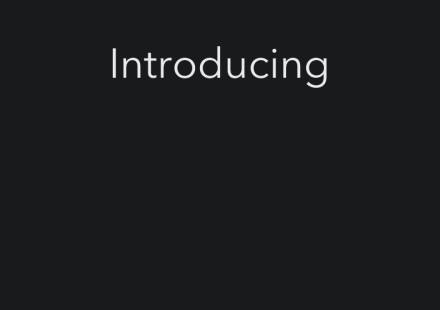 Character Reference Sheets►Introducing Customized Character Reference Sheets! You asked and I listened!►These sleek, uniquely designed character reference sheets are multi-game compatible, including D&D stats that can be filled out or left blank to be filled in per campaign, FFXIV innate aether lines, social media links dedicated to your character, and so much more!How It Works:►Pick your Background that best represents your character - if I don't have one drawn yet, I will draw it. This will be FREE as long as I retain the right to use the said background in future templates.►Pick your template lines. Maybe it's your character's innates, auras, aether, sexuality, gender preference, or just your favourite colour(s).►Pick what additional items you want to be on your character sheet. All items are A La Carte!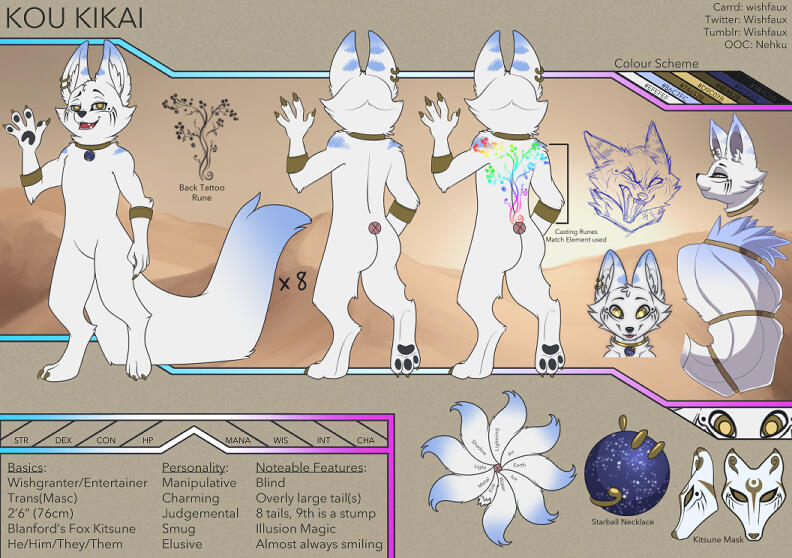 Pricing►$250 Base Price Includes:
-2 Full body FLAT Colour, front, and back.
-Hex Codes + Colour Scheme
-Character's Eyes Reference
-Personality Information
-D&D Stats
-Character's Social Media Links
-Background (Template)
-Innate Lines► Optional items listed below are sold separately and CAN be added to your character sheet at later dates:
| Options (Each) | Sketch | Inked | Flat Colour | Shaded Colour |
| --- | --- | --- | --- | --- |
| Full Body | $60 | $90 | $125 | $150 |
| Expressions | $35 | $50 | $60 | $75 |
| Objects/Items | $10 | $20 | $30 | $40 |
| Unique BG | $-- | $-- | $-- | $30 |
FAQ►Can these be NSFW?
-Yes. If you want a fully nude drawing of your character's anatomy or extra pictures/items/expressions of genitalia or other NSFW themes, that's fine. It is on YOU, as the purchaser, to only post such NSFW references where NSFW is allowed. If an NSFW Character Sheet I've drawn is posted in a space otherwise not intended for such things, I am not held responsible for it.►Can I add more to it at a later date?
-Yes. Once you purchase the base, if you want to come to me and add on something else at a later date, I can rearrange your template, you just pay for the A La Carte price. The template is designed to be flexible as such, so you can purchase in payment plans.►Are these "Artist Friendly"?
-Yes. Not only do they provide the HEX codes for 100% accurate colour selection, but the Colour Scheme section is also unfiltered and does not contain any texture overlay for easy eyedrop picking.►Can I gift one of these?
-Yes. If you want to gift a base or addons to someone's already purchased base, please contact me so we can discuss the details. If the recipient chooses to add features at a later date, it falls on them to purchase the content, not you, unless you then gift addons to them.►These are considerably cheaper???
-Yes. Even compared to my own art prices, these are considerably cheaper because they are straight forward and I WANT to give people options for affordable, flexible character reference sheets. I'm a character concept artist, I want to give players options to express themselves!►What size are they?
-7014 x 4962 px, Just above 11.5" x 8.25", 600dpi for HD quality.►Can they be in different languages?
-They certainly can be! If you want these in your native tongue, you may want to tell me the words and terms to use for proper grammar.
Emojis + Stickers►ARE HERE!►Introducing Emojis and Digital Stickers! Each sticker and emoji will be a transparent background for effortless seaming throughout every platform. These stylized semi-flat colour items can be purchased individually or in packs.►YCH packs will be available at a flat, cheaper price.►Pricing is still in the works for bundles and animated emojis.►Automatically sized for Twitch, Discord friendly!
| Type | Single | 4 Pack | YCH Single | YCH 4 Pack |
| --- | --- | --- | --- | --- |
| Emoji | $35 | $120 | $30 | $100 |
| Sticker | $45 | $160 | $40 | $140 |
| Animated | Not | Here | Yet | Sorry |
Who am I?► I am Nehku! I am a mostly self-taught artist based in the United States. I am a full-time freelance artist who deals in character concept design and works heavily with clients from games, particularly MMOs such as FFXIV, World of Warcraft, and tabletops like D&D! I enjoy snipe drawing my friends and gaming! I have two cats, Aru and Sifa, who you will likely hear me talking to during any stream I happen to do.Who is V?► Veikko (or V as he's lovingly called) is my fursona, a skull-faced Aardwolf. I also use him as my VTuber avatar.Who is Kou?► Kou Kikai is my little kitsune Mascot. He has multiple forms but is usually portrayed as a white fox-like creature.
Introducing Re:Design!► Re:Design is a blanketed term for several options I will be introducing in the future. Such options will include:RAID BOSS MODE: I'll design your character into an MMORPG/Fantasy style raid boss.
RE:IMAGINED: Have a character you love but just don't connect with? Want a fresh start or redesign of their attire, aesthetic, or general appearance? Let's go!
Pick-A-Genre: Have a great character but wonder what they would look like in different universes and styles? Tell me what world you'd want them in, let's create it together!And more!More Information To Come!► Stay tuned!
Introducing Adoptables!► More Information Coming Soon!